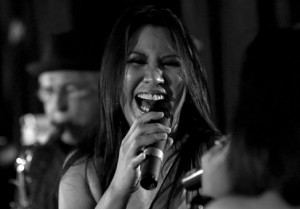 Relyn Bacani was born in Mabalacat Pampanga, Philippines .Like most of the Filipinos , during her childhood years she fondly listens to her dad and her sister who's singing in a karaoke. Without her sisters knowing, she tried playing the minus-one of her sister and started singing and had practiced very often.
From then on she got interested in joining some singing competition in her grade school years.
But never she thought that singing would be her bread and butter .She was on her 4th year in High School when Mt.Pinatubo erupted on June 15,1991.As a result of the aftermath where most of the many places were damaged including her hometown in Pampanga. Further in the month of September 1991, his dad introduced her to a friend.Fortunately, the door opens for her when she found out that his dad's friend incidentally was looking for a singer to send to another country.At the age of 15, she already started her career in singing. She had her first travel abroad experience and worked in Delmon Hotel Manama Bahrain. Flourishing with luck she had explored more of her talent and gained more experiences. From then on she traveled and worked in different countries such as Jakarta Indonesia with Re-Enactment Band,Muscat Oman (Sheraton Hotel), Bahrain (Le Meridien Hotel), Chiangmai Thailand, Yemen (Sheraton Hotel).
During their breaks in the Philippines and while waiting for their next contract abroad,Relyn and her band continued to play in different bars and famous casinos in the Philippines. Sometime in March of year 2000, Relyn and her band met a couple whom are based in Germany. Teresa Kästel, a filipina married to a German national Christoph Kästel.The couple then thought the idea of employing the band in Germany. Her mind was set with too much ambition, Relyn and Reflex Band finally harbored in the country of Germany in September 2000. And from then on the band was known as GOLDEN ASIAN BAND until 2002.November of the same year Relyn and the band went back to Philippines.But after a couple of months Teresa and Christoph again hired the band back to Germany under their management and named them as Prestigious Band.The band have played in many different places and big gala events in Germany and Europe. She continued venturing the same career as one of the lead singer of Prestigious Band until 2007.
In year 2008, though with fears, courageously she faces the challenge of going solo as a singer. Her long years of experience in her singing career made her even more better. She became active from then on as a solo singer. Her versatility and soulful voice gave her a chance to work with other musicians up to present.
Her voice, looks, versatility and energy had given her enough motivation to shift from different genre; where she sang from ballad to dance music, from country, pop, charts and soul music. She got it all! Whether be in a solo act or with a live band, Relyn is the best choice to perform for all your special events.